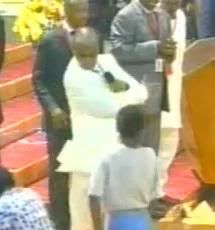 Bishop David Oyedepo assaults parishioner after misunderstanding her
I am not quite sure what to say about this, its pretty shocking.
I think the woman says "I wish for Jesus" but the Bishop hears the word witch, and slaps her hard!
about :
David O. Oyedepo, affectionately called "Papa" by members of his church congregation (born September 27, 1954) is a Nigerian Christian author, Preacher and the founder and Presiding Bishop of Living Faith Church World Wide also known as Winners Chapel and its affiliated International churches known as Winners Chapel International, with headquarters in Ogun State, Nigeria. He is also the senior pastor of Faith Tabernacle, a 50,000 seat church auditorium reputed to be the largest church auditorium in the world by the Guinness Book of Records.
Video Backup