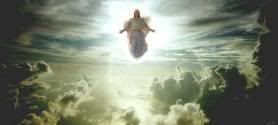 Now I know how much you all like a good rapture, and well lets be honest the last few have been a total let down. Well boys and girls, this is it, this time it is for real! Really! Honestly, pay attention this time. You dont want to miss it.

Quote:
Former Worldwide Church of God preacher says Jesus Christ is returning on May 27, 2012 and that today marks the end of time and beginning of "half time"
So to be clear Ronald Weinland the preacher has stated that the rapture will happen on May 27th THIS YEAR! and that the "half time" has started today, well January the 8th to be exact.
So if you have a birthday on May 28th, tough luck!!
Quote:
For those who do not believe him and mock his message, Weinland claims that they will die from cancer.
Yep, if you dont believe him you will die from cancer! is this before or after the rapture? if after surely it makes no difference as the rapture will kill us horrible nasty non-believers????
He has a website if you dare visit it called Church of God or
www.cog-pkg.org
Lots of talk of a seventh seal being opened and so on, bit like when you been in the pub (spending the BadPsychics beer fund) and after 3 pints you go take a wee, and once you have loosened the seal, you need to use the look every 10 minutes. Well its something like that but with the end of the world, rapture and all that jazz.
Now please don't be put off by the whole Harold Camping debacle, we all know the world didn't end on May 21, 2011, but Camping was an old man, this new geezer well he is an old man too but not as old, so he has more to lose if he is wrong!
Here is a video of Weinland (A bit like Disney Land but with less Nazi)
Now the important thing is you pay attention to this utter and complete lunatic, I mean man of God, because if you don't pay attention you may very well end up burning in hell, and the last thing you want is to look stupid in hell!
Of course the most likely chain of events is that May 2012 will pass without incident and the rapture will be postponed till December.
As of counting I have personally survived about 12 raptures. Another 1 doesn't scared me, in fact I quite like a good rapture, makes the sky look all pretty!
So good luck people in this latest rapture, and remember to let me know if you survive it, and if not I wont care cause I will be living it up in Hell with all the Pagans!
By Jon Donnis
Twitter:
@jondonnis
www.facebook.com/jondonnistv